6 Reasons to Call a Roofing Contractor
1. Excessive granule loss. If you can see small piles of black or gray granules in your gutters or collected in your downspouts, it's a sign your roof's shingles have failed or reached the end of their useful life span.
2. Loose or missing shingles. Windstorms and snow and ice damage can cause the nails that affix your shingles to the roof deck to pop out, resulting in loose or missing shingles.
3. Water stains on roof decking. If you see signs of water stains, it indicates a roof leak is allowing water to run underneath the shingles.
4. Shingle pops. Shingles that appear to rise above the flat surface of the rest of the roof can indicate impact damage from hail, but they may also indicate inadequate attic ventilation.
5. Cracked, loose or worn flashing or gaskets around protrusions like vent stacks and chimneys.
6. Roof age. Along with the conditions listed above, knowing your roof's age is critical for determining whether or not you should invest in repairs or a roof replacement
Source: Angie's List
Bellaire Roofing is family owned and operated, proudly serving all Houston and surrounding areas since 1958. If you are thinking of replacing your roof, or if you would just like to know the condition of it call Bellaire Roofing team. (713) -667-7458 for Free Estimates.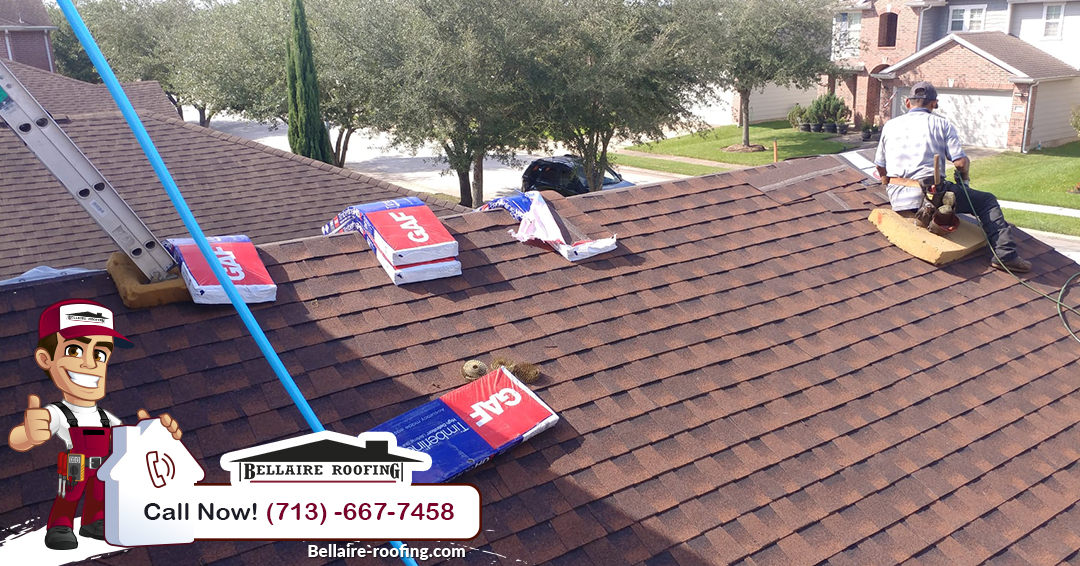 Houston Roof Replacement Contractor
Roofer in Houston, Roofer Services in Houston,Residential Roofer in Houston, Commercial Roofer in Houston, Roofing Company in Houston, Residential Roofing Company in Houston, Commercial, Roofing Company in Houston, Roofing in Houston, Roofing Services in Houston, Residential Roofing in Houston, Residential Roofing Service in Houston, Commercial Roofing in Houston, Commercial Roofing Service in Houston, Roof, Company Installers in Houston, Roof Installers in Houston, Residential, Roof Installers in Houston, Commercial Roof Installers in Houston, Roof Installation in Houston, Roof Company Installation in Houston, Residential Roof Installation in Houston, Commercial Roof Installation in Houston, Roofing Contractors in Houston, Residential Roofing Contractor in Houston, Commercial Roofing Contractor in Houston, Roof Repair in Houston, Residential Roof Repair in Houston, Commercial Roof Repair in Houston, Re Roof in Houston, Re Roof, Residential Roof Maintenance in Houston, Commercial Roof Maintenance in Houston